Art Space Gallery was founded in 1986 by Michael and Oya Richardson and soon came to be recognised as one of London's foremost venues dedicated to showing and promoting serious painting. In 1993 the art critic and writer Keith Patrick, then chairman of the British section of the International Association of Art Critics wrote that:
"Art Space Gallery is one of those rare galleries which spontaneously attract the interest of artists and many distinguished names are frequent visitors to its exhibitions. This is even more remarkable given that the gallery is situated in a quiet corner of Islington and not in the commercial centre of Bond Street.

We may take this ground-level support as an indication of the success of the gallery's policy. Over a period when the art market has been particularly prone to the vagaries of fashion Art Space has followed its own instincts. Above all its directors - Michael and Oya Richardson - have maintained a commitment to painterly figuration and have come to identify the gallery with a direction which has remained significant in British art for forty years. It is to their credit that they have extended our knowledge of the contemporary end of that tradition.."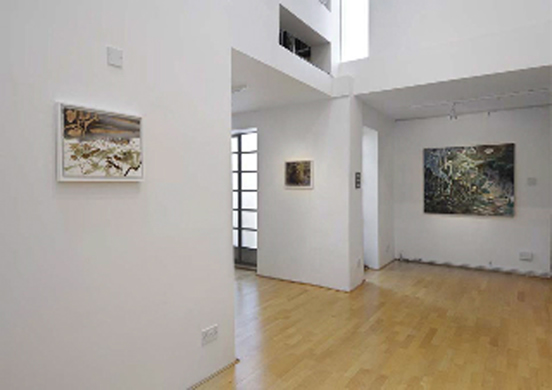 Since then the gallery has grown along with many of its earlier artists to become one of London's leading galleries for contemporary painting where the work of young artists can be seen along with those of established reputations. As David Lee commented in Arts Review in 1998:
"… Art Space Gallery has an eye for the more refined art student and is always worth visiting with a view to buying now what will indubitably be more expensive later…"
FLASHBACK EXHIBITION
In April 2011 the Gallery celebrated its 25th anniversary with a major exhibition of work from artists who had solo exhibitions in the Gallery which included many eminent names from the British art scene.
view FLASHBACK 25 Years Catalogue on line
view STEP & STAIR 35 Years Catalogue on line
Please feel free to contact the Gallery